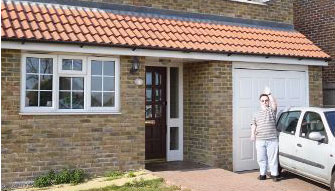 Supported Living - a place of your own
Our supported living service aims to assist you in living in your own home.
People choosing to live within our supported living service have their own tenancy and are responsible for their own bills and cost of living. Having the right care and support is just as important as finding the right home. We can provide you with support to help you with things like getting dressed. With daily tasks around your home, such as cooking a meal or dealing with bills. We can also support you in accessing community services, social activities and in maintaining your interests and hobbies.
We can be there with flexible and personalised support as much as you feel you need - for a couple of hours a week or more should you need. We have supported people who have felt ready to move from residential care or family homes into their own home or a house shared with others.
We support you to live your own life in the way you choose with an appropriate circle of support involving family members, friends, other professionals and anyone else who is important to you.
To be considered for a place at Canterbury Oast Trust, a free care needs assessment must be completed. Kent County Council provides everything you need to know about the care needs assessment process on their website.
CQC Rating: Requires Improvement
You can view the full report here