Plants & Produce brings a little bit of the countryside to Ashford Station
Published: 15 August 2016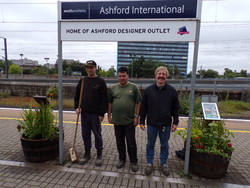 The team from the Rare Breeds Centre Plants & Produce were thrilled to be approached by South Eastern Trains to create a floral display on platforms 5&6 at Ashford station.
Last week, five Canterbury Oast Trust (COT) service users, along with staff and volunteers from Rare Breeds Plants & Produce met with Ashford Station Manager, Jim wells, who showed them the ropes. They then embarked on the epic mission of transporting the plants, barrels and compost up to platforms 5 & 6!
The planters contain a beautiful mixture of scented herbs, flowers and late flowering perennials. All of these will attract wildlife, and add an interesting and vibrant display for the passengers. The planters also carry information about Canterbury Oast Trust, and help to spread our mission to the local commuters of Ashford. The project also helped the accredited students to work towards their formal training, as they learnt a variety of skills through this project, including Health & Safety, working in a public area, plant design and horticulture.
Pictured: COT Students (L-R) David Bieri, Calvin Regans and Bruce Mactaggart
This was part of Southeastern Trains' local community initiative, in association with the SCRP (Sussex Community Rail Partnership) and ACoRP (Association of Community Rail Partnerships) and working with the Kent Community Rail Partnership.