In Touch With Rarebreeds Centre
Hayley—On the Farm
Though it seems a long time ago already, our Christmas event was a huge success and we were fully booked for visits to Santa! Despite the odd snow flurries, it will soon be time to say goodbye to our Mr Snowman (much to Graeme Jackson's delight) as we seem to be hurtling towards spring!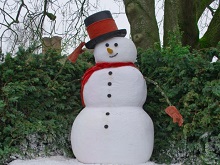 The spring flowers are beginning to show themselves in our woodland, keep a keen eye out for the rosettes of the Early Purple Orchids, Primroses and of course the Bluebell shoots. Please do stay on the paths to avoid trampling, so that next year's display is just as beautiful.
With spring, comes the time for spring cleaning with plenty of refurbishment on the farm… our field carparks are being laid with rubber matting to help with visitor parking during our peak times; the main hand wash station is under much needed refurbishment, and the top toilets have undergone a dramatic transformation, we are awaiting the grand opening. We've planted and begun mulching more hedges around the farm (to act as screens and wildlife corridors) and have pruned our existing hedges.
Half term was nicely busy with great weather and lots visitors despite the muddy conditions under foot. We are now preparing for the Easter holidays, lambing season and our peak school season – never a dull moment on the farm :)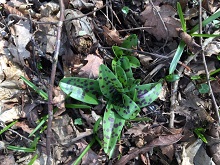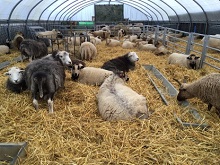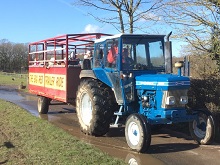 Nikki—Events & Marketing
It seems a little bit late to talk about Christmas but I have to mention that we had an extremely successful event, as all Santa tickets were sold out long before the man himself was due to arrive.
Davy, Hayley and the farm team produced the most wonderful, sparkling grotto for yet another year and gasps of wonder were heard from the both the grown-ups and their children as they walked in.
Thanks to everyone who took part, including Matty and Coralie, who performed another well received pantomime, the shop and catering and Julie and Erica; they all helped to make another successful event.
Santa, the Naughty Snowman and the Elves are all booked in for this year, so for those of you with little ones, tickets will be on sale in September.
Easter may have been and gone by the time you read this but there will be lots to do around the farm, including the Easter Bunny choccy hunt, pig washing, face painting, more activities with the Easter Bunny and of course it's the start of Pig Racing season…..all very exciting.
It's our 24th Classic Car Show this year; where have all the years gone since Margaret Hanlon started this increasingly popular event? Last year we had just short of 200 exhibitors and stalls and bookings are coming in thick and fast for this year.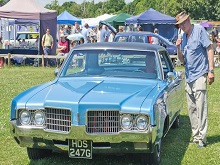 If you have a family member or friend who has a prized vintage vehicle hidden away, please encourage them to come and take part in the show. There's lots going on for all the family, a selection of stalls and autojumble, a parade for those who wish to 'show off' their highly polished car, bike or van and all the usual farm fun.
If you would like more information or a booking form please come and see me in reception or you can download one from the website https://www.rarebreeds.org.uk/events/detail/24th-classic-car-rally