In Touch With Fundraising
Lucy & Emily —Fundraising
Our fantastic supporters and volunteers continue to amaze us by raising vital funds and awareness for our work. We would like to thank each and every person who kindly donated their time to help further and strengthen our message as we begin a new and exciting year.
Relax and enjoy just a handful of inspirational stories from the last few months…
Christmas Raffle proves fruitful
Thank you to everyone who purchased tickets for the Kent Charities Group Christmas Raffle in December 2017. Canterbury Oast Trust are proud to be a part of the Kent Charities Group (KCG), a local initiative which exists to improve the quality of life for people throughout the county. The group epitomises the true ethos of partnership working, providing assistance to thousands of vulnerable children and adults.
The Christmas draw was made on Monday 11th December 2017 with two lucky winners receiving a falconry experience day at the Rare Breeds Centre and a case of wine! Through our events and projects with the KCG, we receive all the funds from the tickets we sell, which is proving to be a fantastic partnership for every charity involved.
If you would like to support COT this year whilst also enjoying a delicious, 3-course vegetarian dinner, please consider buying a ticket to the Blackthorn Trust Annual Dinner on Friday 18th May 2018. Tickets are £20 and tables range from 4-8 people. Please call Fundraising Manager, Lucy Read, on 01233 861493 (ext. 241) or email [email protected] for more information.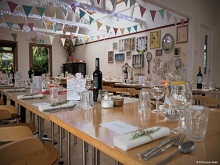 Students shine bright at Furley Park Primary Academy
We were delighted to receive an email from the Vice Principal at Furley Park Primary Academy late last year informing us that students had held a sponsored Fun Run to raise money for charity. Of the four houses in the school, students had to nominate which local charity they would like to support and we were thrilled when COT was chosen by Redgrave House!
Based in Ashford, the school invited us along to the cheque presentation as part of their morning assembly. We felt so honoured to attend and accept the cheque which totalled £292.92! It was a wonderful experience to be a part of the day and we are very grateful to everyone at Furley Park Primary Academy for their hard work and continued support.
Huge thanks to Royal Blackheath Golf Club
We would like to say a BIG thank you to Siobhan Smyth, the Ladies Captain at Royal Blackheath Golf Club who kicked off a fantastic year-long fundraiser for COT in 2016 by selecting us as their chosen Charity of the Year. Following their Christmas Bazaar Fundraiser, which we attended laden with muffins, cakes and mince pies, the club went on to raise a phenomenal £3,634.80! We will be welcoming Siobhan and the club members to COT in springtime to express our thanks and gratitude for their incredible support.
Charity of the Year partnerships are a fantastic way to unite staff with a worthwhile cause. If you or anyone you know who may like to learn more about partnering with COT this year, please get in touch with Lucy on: [email protected]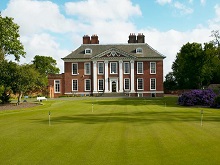 From Paul Sanderson
Running for the COT in Manchester
On Sunday 3 December last year Joanna Sanderson (sister of Nick Sanderson, Warren Mews) and Nathalie Janvier ran the Stockport 10, a ten-miles run that began and ended at the athletics stadium in Woodbank Park, Stockport, situated south east of Manchester. Their chosen charity was the Canterbury Oast Trust.
The course was described by the organisers as 'quite undulating', but the conditions were good for running, in that there was no wind or rain and the air wasn't particularly cold. Both our COT runners surprised themselves by completing the run in less than two hours, raising £460 for the COT in the process.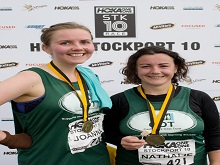 Lucy & Emily—Fundraising
Quizzes, raffles and tea – all in a day's work for local WI!
The wonderful ladies of the South Willesborough and Newton (SWAN) WI kindly selected COT as their Charity of The Year in 2017 and invited us to accept the incredible cheque donation of £257.00 at the start of 2018. Arriving with a delicious homemade carrot cake by The Granary Life Skills students, we were welcomed with open arms and pots of tea before delivering a short speech to express our sincere thanks. Throughout the year, the ladies hosted quiz nights and raffles, all in aid of our work in providing independence, confidence and support to our service users.
We would like to say a huge thank you to everyone involved at SWAN WI for donating their valuable time and effort to help raise vital funds and awareness for COT.
Special thanks is extended to 2017 President Sheila Eastlake (pictured with Fundraising Officer, Emily Rust) and the best of luck to 2018 President Maureen Drury.
Thank you for your kindness and continued support.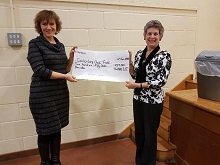 Final cheque from Basepoint totals £20,000
Our friends at Basepoint Folkestone selected COT as their Charity of the Year for 2 years in a row and within that time have donated an incredibly generous £20,000 through their partnership with The ACT Foundation! Their kind donation was dedicated to be 'matched funded', meaning for every £1 fundraised from one of our fantastic supporters, Basepoint would donate £1, up to a grand total of £20,000.
Emily Rust, Lucy Read and Rob Foley travelled down to the Basepoint offices to collect the cheque and also had the opportunity to meet with local businesses – a fantastic chance to spotlight the incredible work of COT.
Special thanks to Lorraine May of Basepoint who has been instrumental in forging this wonderful relationship and for her commitment in supporting COT into the future.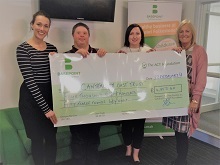 Local pub raises funds for 'Plants and Produce'
Our friends at the Lord Raglan Pub have amazed us once again by deciding to fundraise for our Plants and Produce Life Skills project through their own plant sales and garden parties. Since they began supporting us in 2015, we have received over £3,000, which has helped towards our growing tunnels and planting benches – both of which were in desperate need of repair.
School fashion show raises funds for COT
Haig House from Gad's Hill School in Higham decided to raise funds for us by hosting a fashion show at their school, with teachers, students and staff involved.
We were delighted to hear they selected COT as their chosen charity to support throughout 2017 and even more thrilled to learn they will support us throughout 2018 too! As a thank you, we welcomed a number of students from Haig House to the Rare Breeds Centre to showcase the impact of their fantastic fundraising efforts.
Students learned all about herbs and spices at Plants and Produce and heard from our service users at the Rare Breeds Centre. We received some wonderful feedback from the students following their trip:
"We would like to thank the staff for their hard work throughout the day to ensure that we had a good time. We loved their positivity, spirit and friendly nature and attitude; this was inspiring to us as we are more determined now than ever to raise money as we know it is going to such a fantastic charity run by incredible people. Thank you again for such a great day!"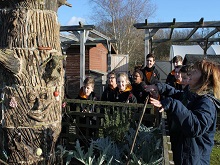 Paul Harris—Volunteer Coordinator
Tesco Bags of help programme Sat 3rd February 2018 award ceremony.
The Canterbury Oast Trusts' volunteer gardening club was put forward by Gill Marsden, former Volunteer Coordinator, for Tesco's 'bags of help' scheme. This is a grant programme funded through monies raised from the 5p carrier bag charge and voted for by shoppers depositing the blue disks for the charity of their choice.
Tesco felt the COT application met all the requirements for their programme and the voting box with our name on it appeared in the Park Farm branch of Tesco throughout November and December 2017.
We were notified early in December 2017 that we had received enough votes to receive a donation from the programme.
I had the pleasure of attending the award ceremony on Saturday 3rd February 2018. The event was well attended with the major of Ashford handing over the cheques to the winners. I was thrilled to have received, on behalf of the COT, the highest cheque awarded in the sum of £4000, which will be used to assist the volunteer garden club with new and better equipment and waterproofs to help them keep the gardens at the homes looked after.
CSIS CHARITY FUND's £20k GRANT FOR COT's LIFE SKILLS ACADEMY
A £20,000 grant will soon be on its way to the Canterbury Oast Trust thanks to the CSIS Charity Fund. The donation will go towards the build cost of our new Life Skills Academy at its Rare Breeds Farm site; almost tripling the size of the current Harrington College facilities, which aims to support people with a learning disability.
The funding follows a similar size grant from the Charity Fund last year and continues the very generous support provided in recent years. Gill Noble, who chairs the Charity Fund said how pleased she was that the grant had been agreed and looked forward to seeing completion of the project. "It will be so valuable in supporting COT's work and will be a major improvement for the future", she said.
The CSIS Charity Fund is an independent charity linked to the Maidstone-based Civil Service Insurance Society, a not for profit insurance intermediary which markets products exclusively to current and former civil and public servants. Virtually all CSIS's annual trading surplus is transferred to the Charity Fund, allowing grants to be made to dependants of policy holders and, via charitable organisations, to those from the public services who face hardship.
We are enormously grateful to the CSIS for their continued support and the faith they have shown in the Life Skills Academy project.