Half Term at The Rare Breeds Centre
Published: 11 February 2013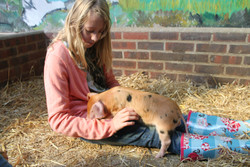 Half-term fun with Critters at the Rare Breeds Centre
The Rare Breeds Centre (RBC) in Woodchurch near Ashford has got a fun packed half-term lined up.
Great weather can't be guaranteed but you're sure to have a fantastic time with the kids. The fun kicks off on Saturday 16th February with 'Meet the animals' sessions in the undercover children's barn: these run throughout the week. There are plenty of animals to meet and pet including goats, rabbits, guinea pigs and sheep.
At the moment there are 13 very cute bouncing baby bunnies on site, they are just starting to open their eyes and will be five weeks old at half-term.
Other attractions during the week are a Critter Care session on Saturday 23rd February when local farm vet, Kathy Hume from Westpoint Veterinary Group is kindly coming to host a question and answer session about farm animals.
Kathy explains, "I am happy to be supporting the Canterbury Oast Trust and sharing my knowledge about animals with visitors to the RBC. It should be fun day."
So you can find out if a cow actually has four stomachs and if goats really will eat everything. There will also be 'Own your own' factsheets to take away giving you the lowdown on how to care for animals at home.
Also new to the Rare Breeds Centre this year are Young Farmer Days. You can book your kids on to a behind the scenes experience hosted by none-other than the RBC's resident friendly farmer Davy. He'll make sure your little ones have a really special day with a tractor ride and animal feeding. Full day sessions are available for under 8's and over 8's over half-term and Easter, check the RBC website for details.
There's so much more besides including falconry displays if the weather is fine and if it's not there is the indoor play area and Creepy Crawly World where youngsters can see and learn about fascinating beasties such as insects and reptiles including snakes, lizards and tortoises. To top it all off there will be a new, follow the footprint trail around the farm to encourage children to think about different animal tracks and get a reward for their efforts.
As we say, there's so much to do you'll need more than a day and remember every time you visit the Rare Breeds Centre you are supporting the Canterbury Oast Trust and helping to make a difference to the lives of adults with learning disabilities.