Four run and raise £400 for COT in the British 10k 2016
Published: 11 July 2016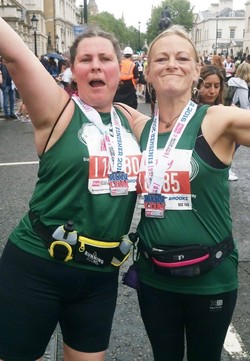 Four Kent COT supporters took part in the British 10k this weekend, raising a fantastic £400 for the charity.
Congratulations and thanks to our fabulous runners; Jax, Clare, Andrew and Emily, who ran the iconic British 10k on Sunday. All our runners this year are very closely associated with COT: Claire (Care Worker), Emily Rust (Fundraiser), Jax Tanner (Tutor at Poulton Wood) and Andrew Causer (brother of a resident of COT).
Emily is recovering from knee surgery and, after taking advice from her doctor, through this would be a great way to help get her fitness back!
Their donations page is still open, and donations can be made at: www.justgiving.com/COT
Canterbury Oast Trust was established in 1985, by a pioneering group of parents. Thirty years later, we have a number of enterprises throughout Kent including The Rare Breeds Centre, Woodchurch, Coterie Tea Rooms, Rye and Poulton Wood, Aldington. We support adults with learning disability to take control of their lives, by providing training, homes and work experience. Many residents and students work and live on-site at the Rare Breeds Centre, and our visitors help us to continue our work.
For more information about the Canterbury Oast Trust, please call our Fundraising team on 01233 861 493.