A Sibling's Story.....
Published: 11 February 2013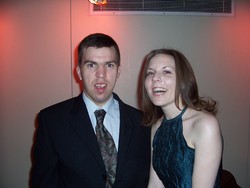 When my brother Nick was born with brain damage the first thought my parents had was, what will happen to him when we die?

Being Nick's only sibling meant that throughout my childhood the same thought kept occurring to me too. It makes you grow up quickly.

Over the years we heard about people who had kept their disabled child at home for their whole life and then when the parents had died, the child, now an adult with no experience of anyone but their parents, was shunted into a care home.

One story I heard, which I have never been able to shake was of a disabled man who could not adjust to or even believe the fact that he was never going home again. So he sat in his care home lobby every day with his bag packed and coat on, waiting for his mum to collect him.

Thankfully Nick has me as well as my folks, so I prepared myself to be his carer once my parents had passed away. Although I knew this would not be ideal for Nick as he is a lively person and easily bored. I doubted I would be able to provide a full enough itinerary or company as good as his peers. He's also taller and heavier than me, how would I help him out of the bath for instance? I wouldn't be able to work, so how would we support ourselves? And again, the question; what if he outlived me? That thought really scared me.

My parents spent years researching options for his adult years and eventually found COT. Their offer was perfect for someone like Nick with a profound learning disability. They could provide both a safe haven and the chance at an independent life.

We are so happy knowing that Nick lives in a shared house, with a group of good friends and some lovely carers on hand. The house is terrific, set on farmland, with a duck pond outside his bedroom window. It's better than mine!

Nick has a social life, he has matured and he's had a chance to work in the woodland area, the plant nursery and develop his artistic skills at the Rainbow Gallery.

When he was born, the doctors said he would not be able to walk or talk, so seeing him produce lovely pictures and textiles, makes me so happy. It makes me sad too. I often wonder what people with learning disabilities who are just left in the corner of a day room could achieve, if people encouraged them.

I can't express how much I love this charity and everyone who works there. It has changed my brother's life and my family's. Of course a bit of worry always remains. Things change as we have seen and Government cuts happen.
The current climate of austerity is, I understand, challenging COT. Our latent worries about Nick's future are back at the front rather than the back of our minds.
I for one will be doing whatever it takes to help with any shortfall:
I have raised my monthly direct debit
I use Everyclick every day and always do my online shopping through it for an extra donation
I have written a widely promoted blog post about ways people can help the Trust, including donating bits and pieces for the gallery, charity shop, nursery and fundraising
I have tweeted extensively to my 2000+ followers
I have used my work notice board - the CEO of our organisation gave a donation as a result and various colleagues are bringing things in for the charity
I have asked businesses for donations of stock
I have asked my friends for help - one friend even has COT as an option on her wedding list
Hopefully if all family members and supporters get behind COT we can withstand the impact of the cuts.
Christina Martin